Imlie: Two evil tricks of Tripathis leaves Aditya emotionally shattered (Upcoming Twist)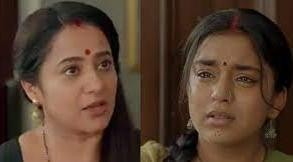 Imlie: Aditya fails to handle two evil tricks of Tripathis
Star Plus' latest offering Imlie is currently focussing on Imlie and Aditya's fallout with the entire Tripathi family.
It was earlier seen that Tripathi's are dead against accepting Imlie as their daughter in law as according to them she is the maid servant of the house.
Tripathi will kick Imlie out of the house in Aditya's absence and further ask Malini to forgive Aditya and come back to Tripathi House and take over the responsibly of being Aditya's wife.
These two evil tricks of Tripathis were not enough to shock Aditya that next, they emotionally blackmail him to leave Imlie and accept Malini.
Aditya misses Imlie
Aditya will not know how to handle the pressure and bring back everything to normal once again.
Will Aditya be able to bring Imlie back or not?
Let's see what will happen next in the show.