Imlie: Aparna turns negative join hand with Anu to separate Aditya & Imlie (Upcoming Twist)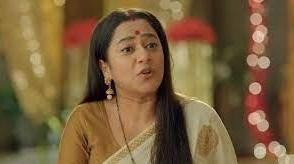 Imlie: Aparna and Anu join hands
Star Plus' latest offering Imlie is currently focussing on Imlie and Aditya's fallout with the entire Tripathi family.
It was earlier seen that Anu will play her dirty trick and disclose about Aditya and Imlie's marriage in front of the entire family.
Aparna will feel cheated by Aditya and Anu as they hid this truth from the entire family for such a long time.
Shockingly Anu will soon intervene and will help Aparna to separate Aditya and Imlie so that Aditya and Malini can unite.
Aparna will also turn negative as she feels that Imlie played with her emotions and trapped Aditya in her love.
Anu dirty mind games
Will Aparna be able to separate Imlie and Aditya?
Will Anu be able to win in her dirty mind games against Imlie?
Let's see what will happen next in the show.