Imlie: Aparna confronts Imlie's Naam Khoon Khaandaan (Upcoming Twist)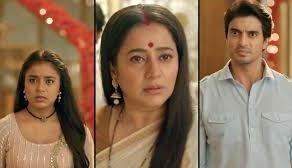 Imlie: Aparna confronts Imlie in front of everyone
Star Plus' latest offering Imlie is revolving around Imlie and Aditya's complex marriage.
It seems that Imlie and Aditya's relationship will come in front of the entire family and everyone will be shocked to know about it.
Anuja will add fuel to the fire as she cannot see Imlie taking what belongs to Malini.
Aparna will be the most affected as she cannot believe that Aditya has got married to a maid servant and now Imlie is her Bahu.
Aditya takes a strong stand for Imlie but Aparna is adamant on her decision.
Eventually, what happens next is quite tough for Aditya and Imlie because Aparna asks Imlie for her agnipariksha.
Imlie gives agnipariksha
Aparna confronts Imlie and questions her Naam, Khoon, Khaandaan that she is trying to become Tripathis Bahu.
Will Imlie get acceptance in Tripathi family as a Bahu?
Let's see what will happen next in the show.