Imlie: Aparna kick Aditya Imlie out Aditya turns jobless (Upcoming Twist)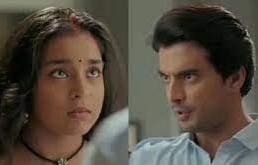 Imlie: Aditya lose job Aparna kicks Aditya out of house
Star Plus' latest offering Imlie is revolving around Imlie and Aditya's complex marriage.
It seems that Imlie and Aditya's marriage truth will shake the base of Tripathi family.
It was earlier seen that Aparna was very fond of Imlie and treated her like a family but the moment she came to know that Aditya loves Imlie and has got married to her things have changed dramatically.
Aparna will not be able to accept this fact and will therefore kick both Aditya and Imlie out of the house and their lives.
Aditya part ways with Tripathis
On the other hand Aditya will lose the job and this will add to their worries as Aditya will not be able to support Imlie financially.
Will Aditya and Imlie to able to gain the love of the family back or not?
Let's see what will happen next in the show.