BV: Abhayram points gun at Nandini but Krish stops Abhayram (Upcoming Twist)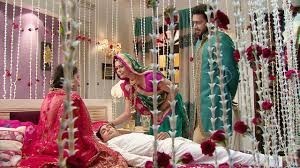 Balika Vadhu: Abhayram points gun at Nandini to kill but her but Krish comes there and holds the gun
In the upcoming episode, Abhayram points gun at Nnadini and ask her whether he should keep her alive or should he kill her like he killed Sudha's baby.
Just then Krish comes there and holds the gun, he says how dare you touch Nandini.
Krish says that you have bitrayed my mom but now I will not leave you, you will have to pay for everything.
As per the current track Triveni blames Nandini for ruining Karuna's birthday and for calling Rudaali sister Sudha.
Nandini slaps Abhayram
Nandini looks at Abhayram in anger and says to Daadi that she is failing and Daadi asks her to fight with Kundan.
Shivam asks Sudha not to ruin herself and says that you should work if you wish to work.
Nandini slaps Abhayram in anger and Abhayram holds her neck.
Stay tuned for the upcoming twist.