BV: Nandini gets drunk and tries to get romantic with Krish (Upcoming Story)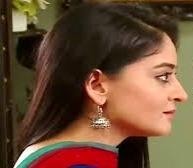 Balika Vadhu: Nandini drinks alcohol by mistake and tries to get romantic with Krish when he enters the room
In the upcoming episode, Rudaali's starts mourning in the party and Triveni gets angry.
Triveni scolds Nandini for calling Rudaali's in the party; Sudha gets angry and lifts her ghungat.
Nandini gets shocked and slaps Abhayram when he is at pool side, Abhayram gets angry.
Abhayram hold Nandini's neck in anger and says that today I will kill you but Krish comes there and saves Nandini.
Abhayram gets shocked
Krish stand Between Nandini and Abhayram, he gets shocked.
Later Nandini drinks alcohol by mistake and when Krish comes in the room she tries to get romantic with him.
Krish feels something is fishy and thinks that may be Nandini has got drunk, Nandini hold Krish and they fall on bed.
As per the current track Abhayram comes out of the bathroom saying that ants were there in his tawal so ants have bitten him.
Stay tuned for the upcoming twist.