BV: Krish catches Abhayram red hand and gets angry on Abhayram (Upcoming Story)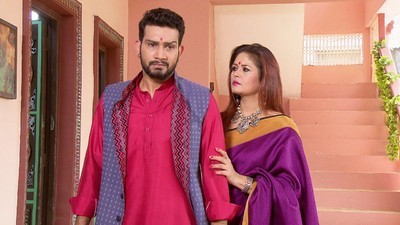 Balika Vadhu: Krish catches Abhayram with knife and gets angry on him, he asks him what was he doing with the knife
In the upcoming episode, Krish sees Abhayram with knife and doubts his intention so he gets angry and holds Abhayram's collar.
Krish says to Abhayram that he does not knows what he may have done if he does not have seen him with knife.
Krish asks Abhayram that what is he doing with the knife and what are his intentions just then all the family members come hearing Krish's voice and they get shocked.
Krish's mom scolds Krish
Krish's mom scolds Krish for talking to his father like this and says these manners I have given to you.
Krish's mother save Abhayram, she says that bad thoughts were coming in her mind so Abhayram suggested that if you will keep knife under the pillow then bad thoughts will not come.
So that is why Abhayram was bringing the knife for me to keep it under my pillow.
Stay tuned for the upcoming twist.
Latest Balika Vadhu Updates