Imlie: Anuja takes back Police complain gets scared of Imlie anger (Upcoming Twist)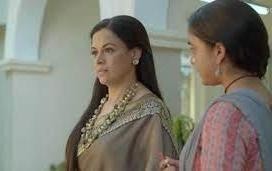 Imlie: Anuja takes police complain back
Star Plus' latest offering Imlie is making a lot of head turn due to its storyline.
It was earlier seen that Anuja will call the cops and files complain against Aditya and his entire family for misbehaving with Malini and torturing her.
Imlie will get pissed off with Anuja for steeping so low and causing harm to the Tripathi family.
Imlie will threaten Anuja to take her case back or else she has to face major setback.
Anuja will get scared seeing Imlie's confidence and will take her case back.
Anuja plots against Imlie
The Tripathi's will be grateful to Imlie as due to her smart move they are out from the jail.
Anuja on the other hand will not give up so easily and plan to destroy Imlie's life forever.
Let's see what will happen next in the show.