Imlie: Dev back from hospital divides property between Imlie Malini (Upcoming Twist)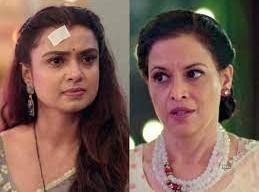 Imlie: Imlie Malini get equal share in Dev's property
Star Plus' latest offering Imlie is revolving around a young girl named Imlie's life.
It seems that Dev is back from the hospital where Dev confessed to Malini and Anuja that he is going to divide his property to Malini and Imlie.
Shockingly Anuja will start threatening Dev that if they give any right or his name to Imlie then she will give divorce to him.
Owing to which Malini and Dev get helpless and decided to stay quiet.
Malini and Dev will decide to give time to Anuja to accept the fact and agree with his decision.
Dev in huge dilemma
Will Dev be able to do justice to Imlie?
It would be interesting to see what will happen next in Imlie and Malini's life.
Let's see what will happen next in the show.