Anupamaa: Babuji makes tough call divides Shah house between Vanraj Dolly Anupamaa (Upcoming Twist)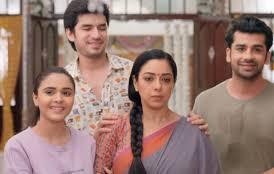 Anupamaa: Babuji divides Shah house between Vanraj Dolly and Anupamaa
Star Plus show Anupamaa is gaining lots of love from the audience due to its beautiful storyline.
It seems that Baa and Babuji will decide to do justice to everyone in their family.
He will once again revise his will and plans to give equal shares to all his kids.
He will divide the Shah house among Dolly Vanraj and Anupamaa as all are equally close to his heart.
Kavya will object over this act of Babuji as she feels that Vanraj is the son and need to be given the soul ownership of the house.
Kavya jealous of Anupamaa
However Baa and Babuji will advice her to stay out of their matter as this is their final decision.
Anupamaa will not want the share but Babuji will not listen to her.
Keep hooked to this site for more updates.