Anupamaa: Kavya plan to torture Shah family backfires Kinjal takes charge (Upcoming Twist)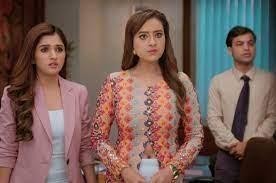 Anupamaa: Kavya makes life difficult for Shah family
Star Plus show Anupamaa is revolving around Kavya's madness towards Vanraj.
It seems that finally Vanraj and the rest of the Shah family will leave the resort and go back to their house in Ahmadabad.
Kavya and Vanraj will go to Shah house along with the rest of the family.
On the other hand Anupamaa will go to her mother's house along with Samar and Nandini.
Kavya will finally be relief that she is Mrs. Shah and will henceforth stay with Vanraj in his house.
She will plan o teach a lesson to each and everyone who humiliated her and supported Anupamaa instead of her.
Kavya Kinjal face off
However she will soon be in for a shock as Kinjal will not allow her to torture her family and will instead make life difficult for her.
Keep hooked to this site for more updates.