Anupamaa: Kavya tags Vanraj as shameless character Vanraj lashes out (Upcoming Twist)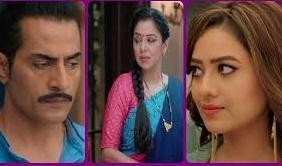 Anupamaa: Kavya calls Vanraj shameless
Star Plus show Anupamaa is going to witness some high voltage drama.
It seems that Kavya will get angry seeing Vanraj going behind Anupamaa even after his marriage.
She will get furious with Vanraj and Anupamaa once again and will do the unthinkable.
She will tag Vanraj as shameless in front of the entire family for going behind Anupamaa even though the two are divorced.
This will leave a huge impact on Vanraj as he will not be able to tolerate Kavya and her bitter tongue anymore.
Vanraj will vent out his anger on Kavya and ask her to stop her nonsense.
Vanraj Kavya at loggerhead
He will later demand Kavya to leave as soon as possible for else she has to face the consequences.
Will Vanraj and Kavya be able to live a happily married life or not?
Keep hooked to this site for more updates.