Anupamaa: Kavya makes honeymoon plan Baa Babuji disgusted (Upcoming Twist)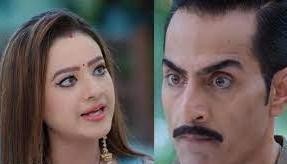 Anupamaa: Kavya plans honeymoon with Vanraj
Star Plus show Anupamaa is getting spicier with each passing episodes.
It seems that Kavya is very angry with Anupamaa as due to her Vanraj is not able to give her anytime.
Shockingly Kavya will make plans to go to honeymoon along with Vanraj in front of the entire family.
She will discuss about it in front of the entire family leaving everyone feel uncomfortable.
Baa will once again point out at Kavya for not respecting the elders of the family and talking about Vanraj and her honeymoon openly in front of Vanraj's kids and parents.
Kavya targets Shah family
Kavya will not listen to Baa and will in fact try to humiliate her as well as she tries to stop Kavya from making her point across.
Will Vanraj be able to stop Kavya from crossing her limits or not?
Keep hooked to this site for more updates.