Anupamaa: Rakhi instigates Kavya against Shah Family Kavya creates ruckus (Upcoming Twist)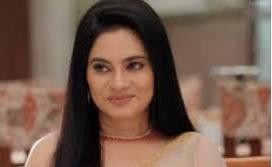 Anupamaa: Kavya gets instigated by Rakhi
Star Plus show Anupamaa is focussing on Vanraj and Kavya's marriage.
It seems that Rakhi will witness how the entire Shah family is excited about Anupamaa's recovery and is a planning a grand welcome back for her.
Meanwhile Rakhi will instigate Kavya that Shah family is busy welcoming their old Bahu but not bothered about the new one.
Rakhi will try to instigate Kavya so that she creates a ruckus inside Shah house.
Kavya on the other hand is fuming in anger but is not planning to create a scene as she is waiting for the right moment.
Rakhi adds fuel to fire
Rakhi on the other is disappointed that even thought she added fuel in fire but Kavya is not ready to react.
Will Rakhi be able to create a fight in Shah Family or not?
Keep hooked to this site for more updates.