Anupamaa: Kavya plans against Samar Nandini alliance major conspiracy ahead (Upcoming Twist)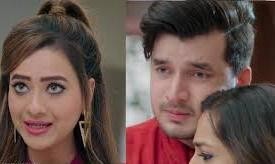 Anupamaa: Kavya turns hindrance in Samar Nandini alliance
Star Plus show Anupamaa is revolving around Kavya madness towards Shah Family.
It seems that Nandini will overhear Kavya's plan to destroy the Shah family once she enters their house as a bahu.
Nandini will openly revolt against Kavya and makes her realise that she is always standing against her and will protect them against her evil tactics.
Kavya on the other hand will vow that she will not let Nandini enter the house as a bahu and get married to Samar at any cost.
Nandini will get shocked to hear that her own Masi is against her alliance with Samar and is conspiring against her.
Kavya berates Nandini
Meanwhile Kinjal will give her full support to Nandini and make her realise that love is above hatred.
Will Kavya be able to destroy the Shah family or not?
Keep hooked to this site for more updates.