Anupamaa: Kavya Kinjal cat fight Rakhi turns mediator (Upcoming Twist)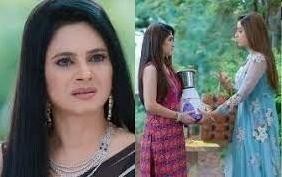 Anupamaa: Kavya fights with Kinjal
Star Plus show Anupamaa is revolving around Kavya's insecurities towards Anupamaa and Vanraj's relationship.
It seems that Kinjal will take a mixer grinder from Kavya's room as she needs to do the cooking.
Kavya will not allow her to take the mixer as it belongs to her since she is the bahu of the family and her mother in law.
The two will be fighting like cats and dogs and will be seen pulling the mixer towards them.
Rakhi will witness the entire drama and gets annoyed by the way Kavya is treating her daughter.
Kavya turns revengeful
Rakhi will once again make it very clear in front of Kavya that if she make life difficult for Kinjal than she will have to face her.
Kavya will be fuming in anger as both Kinjal and Rakhi are getting on her nerves.
Keep hooked to this site for more updates.
Latest Yeh Rishta Kya Kehlata Hai Updates