YRKKH: Ranveer attempt to make Sirat jealous fails miserably (Upcoming Twist)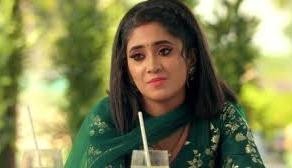 Yeh Rishta Kya Kehlata Hai: Ranveer observe changes in Sirat
Star Plus show Yeh Rishta Kya Kehlata Hai is going to witness Sirat and Ranveer's life after marriage.
It seems that Sirat and Ranveer will be seeing a picture of girl and Ranveer will compliment the girl about her looks.
He will try to make Sirat jealous by continuously talking about the girl and her beauty.
However Sirat will not pay attention to his talks and will be busy doing her work.
Ranveer will start feeling strange as Sirat use to be very possessive about him and whenever he use to talk to any girl she use to fume in anger.
Sirat indifferent towards Ranveer
Ranveer will feel that Sirat has changed a lot of feels sad about it.
Later Sirat will make Ranveer realise that lots of things has changed in these two years.
Keep watching this site to know what more is coming up in the show.
Latest Yeh Rishta Kya Kehlata Hai Updates