YRKKH: Sirat hallucinates Kartik around question answer session ahead (Upcoming Twist)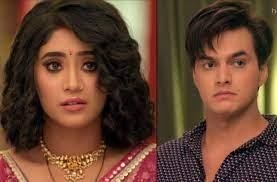 Yeh Rishta Kya Kehlata Hai: Sirat thinks about Kartik continuously
Star Plus show Yeh Rishta Kya Kehlata Hai is going to witness some fun moments ahead.
It seems that Sirat will put Kartik's bio data in matrimonial site as she wants to get Kartik married as soon as possible.
Shockingly Sirat will start hallucinating Kartik around him and will ask him questions about himself that even he doesn't know.
Sirat will know about Kartik's favourite colours food and hobbies.
This will make Kartik blush as Sirat knows him better than most of the people around him.
Sirat feelings changed towards Kartik
However Sirat will soon realise that Kartik is not around her and she is just hallucinating him around her all the time.
Sirat will be missing Kartik and will not know how to understand this strange relationship.
Keep watching this site to know what more is coming up in the show.
Latest Yeh Rishta Kya Kehlata Hai Updates