YRKKH: Agitated Kartik kicks Sirat out of life Sirat shattered (Upcoming Twist)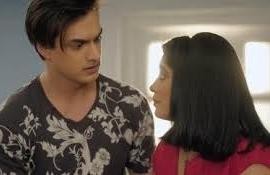 Yeh Rishta Kya Kehlata Hai: Huge showdown between Kartik Sirat
Star Plus show Yeh Rishta Kya Kehlata Hai is going to witness some high voltage drama between Kartik and Sirat.
It seems that Sirat will ask Shreya to come with her to the resort in which Kartik is staying along with his family.
Sirat has turned into a matchmaker as he wants Kartik to marry and move ahead in life.
Shockingly Kartik will take offense to the entire drama as he feels that Sirat is crossing her limits and trying to barge in his life.
He will burst out at Sirat and will ask her to leave his room and life forever.
Sirat deeply hurt by Kartik
Sirat will be shattered seeing Kartik's anger and leave the room in tears.
Will Kartik realise his mistake or not?
Keep watching this site to know what more is coming up in the show.
Latest Yeh Rishta Kya Kehlata Hai Updates