Anupamaa: Shahs cook grand feast for Anupamaa Kavya burns in anger (Upcoming Twist)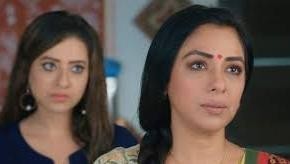 Anupamaa: Kavya pissed off with Shah family
Star Plus show Anupamaa is revolving around Kavya's madness towards Vanraj.
It seems that the entire family is excited as Anupamaa is back after the major operation.
The entire family will cook food for Anupamaa and celebrate their unity.
Kavya is pissed off seeing the love and affection that the Shah family is showering on Anupamaa.
She will try to make them jealous by making them realise that she is also cooking food for Vanraj and if they don't like the food cooked by their own hands they can come to her house.
Kavya angry with Shah family
Pakhi will get angry with Kavya for interfering in their life but Dolly will stop her from reacting.
Kavya is not happy as she is not part of the Shah family even though she is the Bahu of the Shah house.
Keep hooked to this site for more updates.