SAAKK: Shaurya suffers mental shutdown tries committing suicide (Upcoming Twist)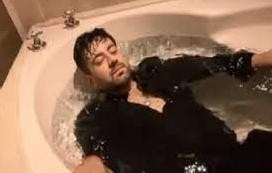 Shaurya Aur Anokhi Ki Kahani: Shaurya attempts to commit suicide
Shaurya Aur Anokhi Ki Kahani is focussing on Shaurya and Anokhi's life after marriage.
It was earlier seen that Shaurya is unable to know the whereabouts of Anokhi and hence turns restless.
He will search for her everywhere and fails to know where she has gone.
This will leave him restless as he doesn't want to let Anokhi go at any cost.
He will suffer a heart break and will drown himself in bathtub and tries to end his life.
However ACP Ahir will come on time and saves Shaurya from committing the blunder.
Shaurya unable to live without Anokhi
He will give hope to Shaurya that everything will be under control and will try to unite Shaurya and Anokhi once again.
Shaurya has never been so upset in his entire lifetime and this will leave a huge impact on him.
Keep reading Serialxpress.com for more details.