SAAKK: Shaurya brings Astha Anokhi in Sabhrewal house Devi shaken (Upcoming Twist)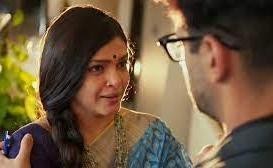 Shaurya Aur Anokhi Ki Kahani: Shaurya supports Astha and Anokhi
Shaurya Aur Anokhi Ki Kahani is revolving around Shaurya and Anokhi's complex life.
It seems that Shaurya will come to know that behind his back his family has tortured Anokhi and got her rusticated from college as well as forced her to leave her hostel as well.
Shaurya will get pissed with Devi as he had warned her to stay away from Anokhi as he loves her a lot.
Shockingly Shaurya will brinh Anokhi and Astha back to Sabhrewal house to teach a lesson to Devi.
Devi will be shaken from within as she never thought that Shaurya will disobey her for the sake of a girl.
Devi fails op separate Anokhi & Shaurya
Shaurya on the other hand has declared war against his whole family.
Will Shaurya be able to get justice for Anokhi or not?
Keep reading Serialxpress.com for more details.
Latest Shaurya Aur Anokhi Ki Kahani Updates