Shaurya Aur Anokhi Ki Kahani: Shaurya unfold painful past Anokhi turns ointment (Upcoming Twist)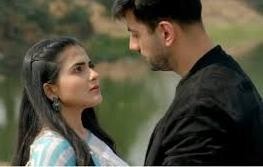 Shaurya Aur Anokhi Ki Kahani: Anokhi helps Shaurya overcome past pain
Shaurya Aur Anokhi Ki Kahani is revolving around Shaurya and Anokhi's complex life.
It seems that Shaurya and Anokhi are stuck in an abandoned place as its thunder storm outside.
Shaurya will soon be talking about his childhood and the pain and insecurities he had gone through as Astha left him alone.
Shaurya will be shedding tears as a baby leaving Anokhi feeling sorry for him.
Anokhi will comfort him and make him realise that she is always with him no matter what.
Shaurya reveal weakness
Shaurya and Anokhi have become closer as Shaurya is opening up about his deep dark secret that till this date he has never shared with anyone else.
Anokhi for the first time will notice the vulnerable side of Shaurya and gets tensed.
Keep reading Serialxpress.com for more details.
Latest Shaurya Aur Anokhi Ki Kahani Updates