Shaurya Aur Anokhi Ki Kahani: Anokhi slaps Vineet stands against Domestic violence (Upcoming Twist)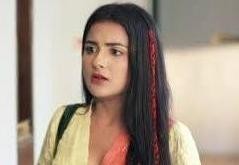 Shaurya Aur Anokhi Ki Kahani: Anokhi raise hands on Vineet
Shaurya Aur Anokhi Ki Kahani is revolving around domestic violence.
It seems that Vineet will see Babli with Anokhi together and gets out of control.
He will once again try to show this power and forcefully take Babli away from Anokhi.
However Anokhi has seen enough of Vineet and his disrespectful behaviour towards her sister.
She will stop Vineet from taking Babli away but he will use his force o her and stops her from doing so.
Frustrated Anokhi will be left with no option but to slap him and show him his place.
Anokhi will take Babli away from him and protects her.
Babli leaves Vineet forever
Vineet on the other hand will get mad with Anokhi for taking his wife away without his consent.
Will Anokhi be able to get justice for Babli or not?
Keep reading Serialxpress.com for more details.