Shaurya Aur Anokhi Ki Kahani: Shaurya takes huge step to protect love for Anokhi (Upcoming Twist)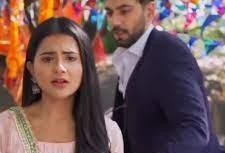 Shaurya Aur Anokhi Ki Kahani: Shaurya unthinkable act
Shaurya Aur Anokhi Ki Kahani is revolving around Shaurya and Anokhi's complex life.
It seems that Shaurya loves Anokhi a lot and is not willing to part ways with her at any cost.
Devi will force Shaurya to get engaged with Shagun and act as if she is not keeping well at all.
This will leave Shaurya sacred and hence he will agree to get engagement with Shagun under pressure.
Anokhi will feel cheated by Shaurya's act and will hence plan to walk out of his life but Shaurya is not willing to take any chance and will hence do the unthinkable.
Shaurya goes against Devis' will
He will fill Anokhi's hairline with sindoor so that she is not able to leave him.
Will Shaurya and Anokhi be able to unite or not?
Keep reading Serialxpress.com for more details.
Latest Shaurya Aur Anokhi Ki Kahani Updates