Pandya Stores: Shivaa Raavi share eternal bond post huge tragedy (Upcoming Twist)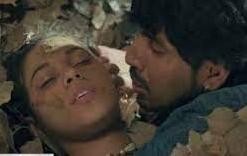 Pandya Stores: Raavi and Shiva come close to each other
Star Plus show Pandya Stores is making a lot of head turn with its storyline.
It was earlier seen that Raavi and Shiva will get trapped in the old building due to the storm.
Both of them will be battling for their life as Raavi and Shivaa are stuck in debris.
Shivaa will get mesmerised by Raavi and her beauty and will vow to never leave her alone till his last breathe.
It is heard that after this sequence Raavi and Shivaa will start liking each other as all their misunderstanding will get clear.
Shivaa Raavi test of love
Raavi on the other hand will be grateful that Shivaa played on his life and saves her life once again.
Will Raavi and Shivaa be able to confess their true feelings or not?
Let's see what will happen next in the upcoming episode.
Latest Pandya Store Updates