Pandya Stores: Raavi Shivaa stuck in debris Shiva makes love promise (Upcoming Twist)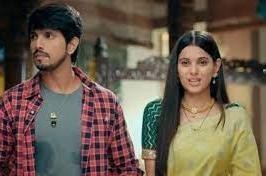 Pandya Stores: Raavi Shiva life in danger
Star Plus show Pandya Stores is revolving around the tension between Raavi and Shivaa.
It was earlier seen that Raavi Shivaa Krish and Dev go to temple to perform puja.
Shockingly there will be a massive earthquake in temple and everyone will get separated.
However Shivaa will not leave Raavi's side and will follow her during the earthquake.
Shockingly the wall will fall on Shivaa and Raavi but Shivaa will protect Raavi.
Later when Shivaa gets his conscious back he will notice that Raavi is beside him but she has not regained her conscious.
Raavi Shiva budding romance
He will promise her that he will never leave her and always be beside her no matter what.
Shivaa will try to save Raavi and bring her out so that the two are safe.
Let's see what will happen next in the upcoming episode.