Pandya Stores: Suman tags Dhara as sterile Gautam jumps in support (Upcoming Twist)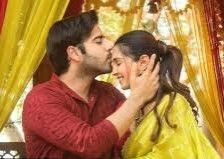 Pandya Stores: Suman bashes Dhara for beating Krish and Shiva
Star Plus show Pandya Stores is going to witness some high voltage drama.
It seems that Suman is angry with Dhara as Rishita will reveal in front of her that she raised her hands on Shivaa and Krish and even separated the kitchen.
Shockingly Suman will burst out at Dhara for crossing her limits and harming her sons in her absence.
She will later tag Dhara as sterile woman who could not give waris to Gautam and hence doesn't know how to take care of the family.
Suman targets Dhara's fake motherhood
She will further call Dhara as a fake mother who is only showering love to Shiva Dev and Krish for her own good.
Gautam on the other hand will not be able to listen to Dhara's insult anymore and hence takes her side.
Let's see what will happen next in the upcoming episode.
Latest Pandya Store Updates