Pandya Stores: Raavi Shiva stuck in deadly storm major destruction ahead (Upcoming Twist)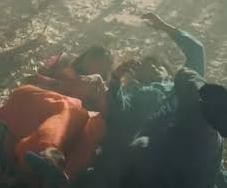 Pandya Stores: Raavi and Shivaa's life in danger
Star Plus show Pandya Stores is going to witness some high voltage drama.
It seems that Suman is angry with Dhara and will hence send Raavi and Shiva to perform the maha Puja.
Shiva and Raavi head to Mukteshwar in tension thinking about Dhara's wellbeing. Dev has a major argument with Rishita and agrees to her decision of leaving the house instead of stopping her; he helps her pack her belongings.
Rishita is stunned looking at Dev's behaviour but not ready to accept her fault.
Raavi Shiva fight for life
Shiva, Raavi, Dev, and Krish finally begin the rituals at Mukteshwar, little did they know that the destructive storm will affect the walls of Mukteshwar. Dev and Krish escape but Shiva and Raavi are stuck in the tragic scene
Let's see what will happen next in the upcoming episode.
Latest Pandya Store Updates