Pandya Stores: Shivaa Raavi fail to calm Suman Dhara stands numb (Upcoming Twist)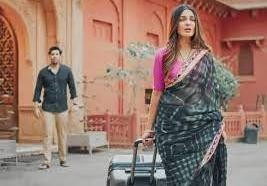 Pandya Stores: Dhara face Suman's anger
Star Plus show Pandya Stores is garnering a lot of attention from the audience due to its beautiful storyline.
It seems that the three brothers try their best in making Suman understand that Dhara's decision is not wrong.
Shiva and Raavi take Dhara's side and reveal the real incident, But Suman's anger is way bigger than their request; she stops Dhara from performing the Maha Puja.
Suman decides to confront Gautam and Dhara before the kids reach the temple. Dhara is in shock when Suman asks her about beating her kids,she stands numb for a while but gathers up her courage and tells the truth.
Suman burst out anger at Dhara
Suman orders Gautam to call Dhara's brother Hardik and take her away from the family.
Will Dhara leave Pandya house or not?
Let's see what will happen next in the upcoming episode.
Latest Pandya Store Updates