Pandya Stores: Shivaa Raavi awkward moment Shiva witness Raavi dressing up (Upcoming Twist)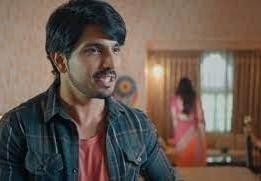 Pandya Stores: Shiva embarrassed seing Raavi dressing up
Star Plus show Pandya Stores is going to witness budding romance between Shivaa and Raavi.
It seems that Raavi is changing in her room when Shivaa will enter suddenly.
Shivaa will feel awkward as he will see Raavi changing her clothes.
Raavi will yell at Shivaa for entering the room without a knock.
On the other hand Shivaa will get angry with Raavi for not locking the while changing,
The two will once again start fighting with each other and not listen to each other talk.
Raavi and Shivaa are slowly coming close to each other but have still not realised it.
Shivaa begs Dhara forgiveness
Will Raavi and Shivaa be able to unite?
Will Dhara be able to forgive Shivaa or not?
Let's see what will happen next in the upcoming episode.