Pandya Stores: Rishita plan backfires Suman proud of Dhara (Upcoming Twist)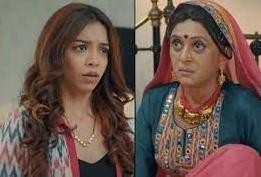 Pandya Stores: Suman supports Dhara's strong move
Star Plus show Pandya Stores is going to witness lots of planning and plotting in the upcoming episodes.
It seems that Rishita is fed up of the entire Pandya house and wants to teach them a lesson.
She will plan to tell the entire truth to Suman about Dhara that how she raised her hands on Shiva and Krish and later divided the kitchen.
Initially Suman will get angry on Dhara for crossing her limits with her sons.
However she will soon realise that Dhara has taken a perfect step to teach a lesson to Shiv Dev and Krish.
Suman connects with Dhara
Unfortunately Rishita's plan will backfire and instead of being angry with Dhara Suman will shower love to her.
Will Rishita be able to divide the Pandya family or not?
Let's see what will happen next in the upcoming episode.
Latest Pandya Store Updates