Pandya Stores: Suman grasps Dhara's hand to stop Maha Pooja (Upcoming Twist)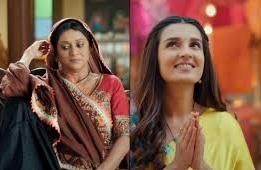 Pandya Stores: Dhara stopped from doing Maha pooja
Star Plus show Pandya Stores has managed to garner praises from the fans.
It seems that Rishita is creating problem for Dhara from the day she entered Pandya House.
Rishita is jealous of the love and affection she gets from the rest of the family and wants to throw her out of her life at any cost.
Shockingly Rishita does not keep quiet where she exposes Dhara's deeds before Suman about how she beat Shiva Krish and then called for kitchen partition.
Suman is in deep shock and asks Shiva Krish Dev to keep quiet before Dhara Gautam as she will take care of Dhara.
Dhara trapped by Rishita
Gautam and Dhara are doing pooja when Suman grasps Dhara's hand to stop Maha Pooja.
It would be interesting to see what happens next on the show.
Let's see what will happen next in the upcoming episode.
Latest Pandya Store Updates