Pandya Stores: Anita Rishita join hands conspire against Dhara (Upcoming Twist)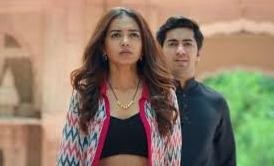 Pandya Stores: Dhara targeted by Anita and Rishita
Star Plus show Pandya Stores has managed to garner praises from the fans.
It seems that a new problem will await Dhara as Rishita is in no mood to spare her.
Rishita hates Dhara as she feels that her life is miserable due to her constant interference.
Huge drama is set to take place in the Pandya family with regard to the bangles that were given to Dhara by Suman.
Rishita and Anita will join hands to target Dhara and oust her from the house.
Dhara in danger
While Dhara has always received the support of Gautam and her devars Krish, Mohit, and Shiva, it will be interesting to see how she will handle this problem.
Will Rishita be able to succeed in her evil mission or not?
Let's see what will happen next in the upcoming episode.