GHKKPM: Sunny shows mirror to Pakhi shocking past revelation ahead (Upcoming Twist)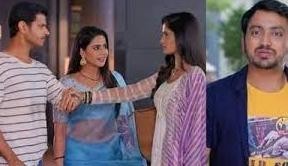 Ghum Hai Kisi Ke Pyaar Mein: Sunny gives reality check to Pakhi
Star Plus show Ghum Hai Kisi Ke Pyaar Mein is revolving around Pakhi Sai and Virat's life.
It seems that before Virat Sai and Pakhi's fight could go out of control Sunny comes to teach life lesson to Virat and Pakhi.
Sunny gives Virat and Pakhi a piece of advice when he tells Virat that Sai is jealous, possessive, and insecure because she loves him while then he confronts Pakhi.
Sunny questions Pakhi that why she married Samrat when she was so heartbroken and it was her decision to marry Samrat then she holds Virat guilty.
Sunny opens Pakhi Virat's eye
Where Sunny makes Virat realize his mistake and Sai's justified insecurity, Virat finally decides to convince Sai.
Will Sunny's reasoning leave a impact on Pakhi and Virat or not?
Make sure you check out Serialxpress.com because we update you every minute.
Latest Ghum Hai Kisi Ke Pyaar Mein Updates