Ghum Hai Kisi Ke Pyaar Mein: Sunny turns love angel unites Virat Sai (Upcoming Twist)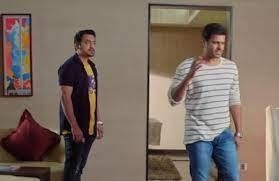 Ghum Hai Kisi Ke Pyaar Mein: Sunny unites Virat and Sai
Star Plus show Ghum Hai Kisi Ke Pyaar Mein is going to witness lots of drama in the upcoming episodes.
It seems that Sai will expose Virat and Pakhi's affair in front of Chavan family and humiliates Virat in front of everyone.
Interestingly Sunny will soon enter the show as a love angel and gives Virat life changing advice.
He will make Virat realise that Sai exposed his and Pakhi's relationship in front of everyone as she was feeling jealous and insecure about her relationship.
Sunny life changing advice
Sunny will further make Virat realise that maybe Sai is in love with him and hence she took such a impulsive decision in jealousy.
Virat will understand Sunny's concern and plans to talk to Sai about it.
Make sure you check out Serialxpress.com because we update you every minute.
Latest Ghum Hai Kisi Ke Pyaar Mein Updates