GHKKPM: Sai question Pakhi staying in Chavan Nivas after Samrat's exit Virat furious (Upcoming Twist)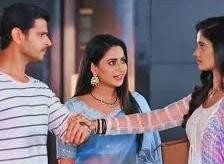 Ghum Hai Kisi Ke Pyaar Mein: Sai raise questions on Pakhi
Star Plus show Ghum Hai Kisi Ke Pyaar Mein is focussing on Virat and Sai and Pakhi's strained relationship.
It seems that Sai is very angry with Pakhi and Virat and will expose them in front of everyone.
She will raise question on Pakhi's stay in Chavan Nivas even after Samrath left her the very next day of their marriage.
This act of Sai will not go down well with Virat as he will not want Sai to drag Pakhi and Samrat in their argument.
Virat Pakhi relationship exposed
Virat will condemn Sai from taking Samrat's name during his absence and humiliating Pakhi in front of everyone.
Sai will once again get angry as she feels that Virat is still supporting Pakhi.
Make sure you check out Serialxpress.com because we update you every minute.
Latest Ghum Hai Kisi Ke Pyaar Mein Updates