GHKKPM: Sai raise hands on Pakhi Virat turns defensive (Upcoming Twist)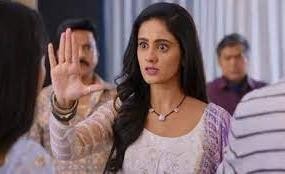 Ghum Hai Kisi Ke Pyaar Mein: Sai lashes out at Pakhi
Star Plus show Ghum Hai Kisi Ke Pyaar Mein is revolving around a major confrontation between Pakhi Virat and Sai.
It seems that Pakhi will taunt Sai about Virat sleeping outside his room even though he has not recovered completely.
This will make Sai angry as Pakhi is continuously interfering in their matters.
Even Bhavani and Ninad will question Sai move to throw Virat out of his room.
Shockingly in Sai will raise hands on Pakhi but will stop in between.
Virat will get angry with Sai for not trusting him and humiliating Pakhi in front of the entire family.
Crack in Sai Virat relationship
Virat will take Pakhi's side and this will leave Sai fuming in anger.
Will Sai be able to forgive Virat or not?
Make sure you check out Serialxpress.com because we update you every minute.