GHKKPM: Chavans compel Sai Virat to think about having a Baby Sai irked (Upcoming Twist)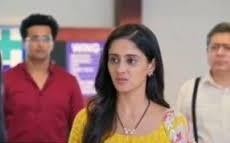 Ghum Hai Kisi Ke Pyaar Mein: Sai and Virat family planning ahead
Star Plus show Ghum Hai Kisi Ke Pyaar Mein is going to witness major change in storyline.
It seems that after seeing Harini all the women's in the house will dream about having their own grandchild.
The ladies will talk about it in detail and discuss that Pakhi will not be able to bear kids as Samrat is not around.
Mohit and Karishma are not fit to take care of kids as they themselves are kids and even Mohit is not financially stable to handle the expenses of a child.
Bhavani makes fun of Sai's motherhood
Amid all this discussion the ladies will talk about Virat and Sai having kids and giving Chavan a waris.
However Sai will overhear this conversation and gets offended.
Make sure you check out Serialxpress.com because we update you every minute.
Latest Ghum Hai Kisi Ke Pyaar Mein Updates