GHKKPM: Bhavani goes against Pakhi gives Sai favourite Bahu thrown (Upcoming Twist)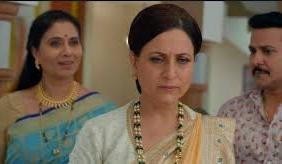 Ghum Hai Kisi Ke Pyaar Mein: Sai gets support from Bhavani
Star Plus show Ghum Hai Kisi Ke Pyaar Mein is revolving around the huge brawl between Virat Pakhi and Sai.
It seems that Sai will not be able to keep the secret behind Pakhi and Virat's relationship and will reveal the same in front of the entire Chavan family.
Everyone will be shocked to know about Pakhi and Virat relationship.
Bhavani will be hurt the most as Pakhi and Virat hide such an important secret from her.
Soon Sai will take over as Bhavani's favourite Bahu due to her straightforward behaviour.
Bhavani upset with Pakhi
Pakhi on the other hand will lose her grip over the family and falls in everyone's eye.
Will Pakhi be able to win Bhavani's heart once again or not?
Make sure you check out Serialxpress.com because we update you every minute.
Latest Ghum Hai Kisi Ke Pyaar Mein Updates