Ghum Hai Kisi Ke Pyaar Mein: Pakhi chance pe dance gets Haldi milk for Virat (Upcoming Twist)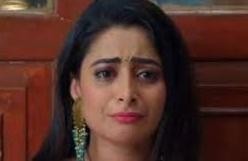 Ghum Hai Kisi Ke Pyaar Mein: Pakhi take advantage of Virat Sai fight
Star Plus show Ghum Hai Kisi Ke Pyaar Mein is revolving around Virat and Sai huge brawl.
It seems that Virat and Sai will have a huge fight and hence Virat will leave his room and goes out to sleep.
Pakhi will come to know about the huge fight and will hence plan to take advantage of the situation.
She will bring haldi milk for Virat and will try to have a conversation with him.
Pakhi knows that Virat is pissed off with her as due to her mistake Sai has come to know about their past.
Pakhi takes thing under control
Pakhi on the other is trying to create misunderstanding between Virat and Sai.
Will Sai be able to forgive Virat or not?
Make sure you check out Serialxpress.com because we update you every minute.
Latest Ghum Hai Kisi Ke Pyaar Mein Updates