Ghum Hai Kisi Ke Pyaar Mein: Sai never seen before avatar force Virat to own up mistake (Upcoming Twist)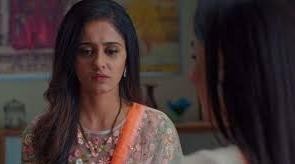 Ghum Hai Kisi Ke Pyaar Mein: Sai force Virat to own up mistake
Star Plus show Ghum Hai Kisi Ke Pyaar Mein is revolving around Virat and Sai huge brawl.
It seems that Virat and Sai will have a huge fight as Sai is not able to understand the entire truth.
She will turn stubborn and will force Virat the entire truth about his alliance with Pakhi to the Chavan family.
Virat will not be comfortable with this idea as he doesn't want his family to know about his past with Pakhi.
Virat scared of Sai
Sai on the other hand will not listen to Virat and threatens him to expose his relationship with Pakhi in front of the entire family.
Will Sai be able to forgive Virat or not?
Make sure you check out Serialxpress.com because we update you every minute.
Latest Ghum Hai Kisi Ke Pyaar Mein Updates