Imlie: Malini kiss emotional broken Imlie on forehead promise new beginning (Upcoming Twist)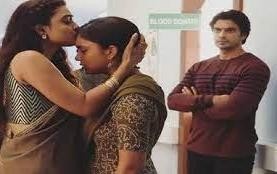 Imlie: Malini makes Imlie feel comfortable
Star Plus' latest offering Imlie is revolving around Aditya Imlie and Malini's life.
It seems that Dev is in hospital as he will get heart attack after facing the huge truth that he has been hiding from a long time.
Malini and Imlie will be in hospital prating for Dev.
Just then, Malini will notice Imlie and feel the suffering that she had to face due to her family.
Malini will go to Imlie and kiss her on her forehead and makes her a promise that she will help her out to start a new beginning.
Malini fights for Imlie's rights
Imlie will be delighted that finally someone has started understanding and loving her.
The two sisters will be seen bonding and being happy in each other's company.
Let's see what will happen next in the show.