Imlie: Anuja manipulates Malini to hide truth from Imlie (Upcoming Twist)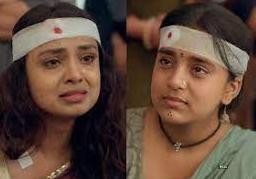 Imlie: Anuja hides truth from Imlie
Star Plus' latest offering Imlie is going to witness some high voltage drama.
It seems that Dev will get a heart attack after Malini will confront him with his hidden secret.
Malini will be feeling guilty as her truth has bought a wave of sorrow and pain to her family.
Anuja on the other hand doesn't want Imlie to know the entire truth as this fact might cghnage the dynamic of her house forever.
Anuja will manipulates Malini and makes her believe that its a huge blunder on her path if she goes ahead and reveals the shocking truth to her entire family about Malini.
Malini fail to helps Imlie
Malini will be feeling guilty as due to her mistake Dev is hospitalised and is fighting for his life.
Will Imlie be able to get justice or not?
Let's see what will happen next in the show.