Imlie: Anuja physically assaults Imlie shocking threat ahead (Upcoming Twist)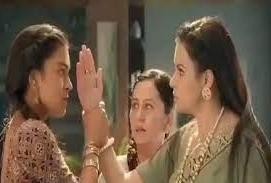 Imlie: Imlie threatens Anuja against assault
Star Plus' latest offering Imlie is going to witness some high voltage drama.
It seems that Malini will be taking Imlie's side and telling Anuja that Imlie is not wrong and that she should question Devchand about everything.
Anuja will warn Malini not to accept Imlie as her sister.
An angry Anuja will wonder what is going on and will try to raise her hand once again on Imlie as she will feel everything is happening because of her.
Interestingly Imlie will twist Anuja's arm and will tell her that she will get her admitted to the same hospital where Dev is if she attempts to slap her again.
Imlie makes shocking choice
This confidence in Imlie will threaten Ahuja to the core.
Will Imlie get back what she deserves or not?
Let's see what will happen next in the show.