Anupama: Anupama's special garba invitation for Anuj (Upcoming Story)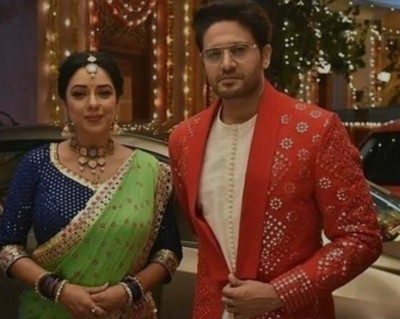 Anupama: Anupama's (Rupali Ganguly) special invite for Anuj (Gaurav Khanna) to celebrate navratri
Star Plus popular daily soap Anupama is gearing up for interesting twist and drama.
Anupama and Anuj's life seems to take new turn, Anuj is doing much for Samar, Nandini.
Anupama thanks Anuj and here she invites him for garba night at their colony.
Anuj is happy getting an invite from Anupama and dances with GK.
Devika is also happy to know that Anupama is acknowledging Anuj's efforts and praises Anuj.
Anupama and Anuj's fight for friendship
Anupama and Anuj's life seems to transform after this garba night as major dhamaka is awaited ahead.
Anupama is going to face backlash from the family and here major dhamaka is yet awaited head.
Anupama will fight back against the colony women who speaks against Anuj and major crisis awaits next.
Stay tuned for more exciting updates only on entertainment news website serialxpress.com