Anupama: Anupama's special thanks brings joy for Anuj (Upcoming Twist)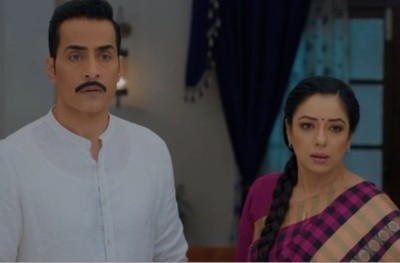 Anupama: Anupama's (Rupali Ganguly) special thanks to Anuj (Gaurav Khanna) for helping Samar, Nandini
Star Plus popular daily soap Anupama is gearing up for interesting twist and drama.
Anupama and Anuj's life is transforming at fast pace, both are getting closer.
Anuj is helping Anupama at each spare of live and is ready to stand by her.
Anupama had seen it herself and she knows that Anuj had done more than anyone else for her.
Here Anupama unites with Samar, Nandini, Anuj suggests Shah family to file FIR against Rohan.
Anupama and Anuj's new beginning
Anuj was leaving when Anupama stops him and thanks him for what all he did for Samar, Nandini.
Anupama thanks Anuj and says that he had done much for her, Anuj is elated to get Anupama's appreciation.
What more twist and drama is awaited and how will situation change up next.
Stay tuned for more exciting updates only on entertainment news website serialxprees.com