Balika Vadhu: Krish throws Abhayram out of the house (Upcoming Story)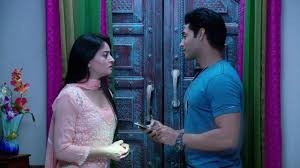 Balika Vadhu: Krish asks Abhayram to leave the house but Nandini stops him and Krish gets shocked
In the upcoming episode, Abhayram bents in front of Nandini and apologizes to her then Krish asks him to leave the house and go.
Nandini stops Abhayram and Krish say that if she stops him then she will be responsible if anything wrong happens in the house.
As per the current track Krish says Abhayram to go away from his mother's life and he will handle her.
Shivam and Sudha hears some noise when they return home, they gets shocked to see goons beating Premal and asking for money.
Nandini apologizes to Krish
Premal tells Sudha that he invested the money in one company but he lost the money.
Nandini apologizes to Krish and says that she did not tell him because he was threatening to kill you.
Sudha applies ointment on Premal's wound and Premal scolds her.
Stay tuned for the upcoming twist.