Imlie: Important creative changes in the show post Gashmeer's exit (Top News)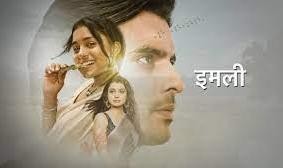 Imlie: Important creative changes in the show post Gashmeer's exit
Star Plus' latest offering Imlie is revolving around Imlie and Aditya's life.
The news of actor Gashmeer Mahajani who plays the character of Aditya Kumar Tripathi quitting the show came as a shock for the viewers.
The makers have roped in actor Manasvi Vsishth to replace Mahajani as Aditya in the show.
Earlier the end page of the show had Imlie, Aditya and Malini's pictures while the new end page consist only Imlie flashing her million-dollar smile.
The makers and the channel have made a few very important creative changes in the show post Gashmeer's exit.
Tripathi family fade out
According to our sources close to the sets, the future story of the show will entirely focus on Imlie.
Only Imlie's character will get prominence.
Sources also suggest that most of the family members from the Tripathi family might slowly fade-out as the story shifts focus on Imlie and her inspiring journey from here on.
Let's see what will happen next in the show.