Imlie: Imlie Aryan travel to Pagdandia on Bus to save Aditya (Latest News)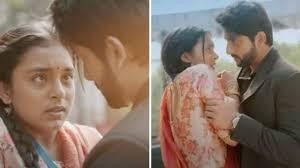 Imlie: Imlie Aryan travel on bus to save Aditya
Star Plus' latest offering Imlie is revolving around Aditya being kidnapped by a terrorist.
It seems that Fahmann Khan aka Aryan recently shared some BTS videos from the sets from the show where one can see how he and Imlie are on their way to Pagdandia.
In the video, Fahmaan and Sumbul are seen travelling on a bus and as he takes the video he gets hit with a branch of a tree, and both of them are seen having a good laugh together.
One can also the crew on the show on the bus and what difficulty they are shooting for the show and it's this hard work that is seen on the television's screen.
Actors enjoy BTS videos
It's so good to see that in spite of the tough shooting schedules actors do take out time to have some fun and ease themselves from the pressure of work.
Let's see what will happen next in the show.